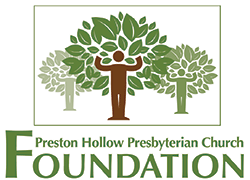 Support for our live broadcasts was generously provided by the Preston Hollow Presbyterian Church Foundation.
Live Streaming
When the service is in progress, you should be able to view it below. In addition to special services, we stream our 10 a.m. service every Sunday.

Questions? Problems? Please email Zach Wells at zwells@phpc.org.
Please note: Our livestream works best with the latest versions of Chrome, Safari and Firefox.
---
Having trouble viewing the live stream? Click here for troubleshooting.
Guestbook
---
Marsha Marlatt (05.08.2016 @ 12:01:08)
It is so nice to have live streaming.
Linda Juba (05.08.2016 @ 11:51:53)
Positive thoughts to understand God's Call.
Beth Moriarty (05.08.2016 @ 11:06:23)
************
GLORIA HALL (05.01.2016 @ 12:18:25)
MISSING BEING WITH MY CHURCH FAMILY WONDERFULSERVICE
Sally Dix (05.01.2016 @ 12:02:46)
Good sermon, Paul. I'll have to look up the 7 references you sited. I love Bruce Patti's violin playing too.
Linda Juba (05.01.2016 @ 11:53:09)
Food for thought indeed. Very interesting sermon. Thank you.
GLORIA HALL (04.17.2016 @ 12:26:19)
wonderful service
Helen & Kent Comer (04.17.2016 @ 12:13:22)
Great sermon!
.Marilyn Wedell (04.17.2016 @ 11:56:33)
Thank you for providing live streaming of services.
Linda Juba (04.17.2016 @ 11:50:32)
Very thoughtful message.
Sally Hoedemaker (04.16.2016 @ 15:10:43)
It was very moving to feel connected to family far away to honour and celebrate Lee's life.
Terry Valenzano (04.13.2016 @ 11:41:19)
Looking forward to live streaming of the Daniel/Herlihy wedding
Marsha Marlatt (04.10.2016 @ 12:10:48)
It was a sweet service by the youth of the church.
Laura Clay-Fix (04.10.2016 @ 12:10:47)
what an excellent service! one of the most meaningful youth services I can remember. What a thoughtful and beautiful group of youth we have among us. It gives me hope for the future! Thank you!
Linda Juba (04.10.2016 @ 12:05:23)
Dedicated youth with many talents shared today. A blessing for all.
Beth Moriarty (04.10.2016 @ 11:05:55)
***********
Victoria Byrom (04.10.2016 @ 10:56:18)
Good job youth
Beth (04.10.2016 @ 10:30:42)
Great Youth Service!
chuck and patty (04.10.2016 @ 09:59:57)
great service guys -- I remember doing youth service 50 years ago - you did touch a more than a few thoughts that I had forgotten about - thank you we are watching from Kusadasi Turkey - we are americans living on a sailboat
Susan Meriwether (04.03.2016 @ 12:26:16)
Leave it to Elizabeth McLean to deliver such an empowering sermon during this time of many challenges. She will be greatly missed but know the Peace of Christ will be with her in all she does. Thank you PHPC for the broadcasts each week!
< Prev
3
4
5
6
7
8
9
10
11
12
13
14
15
16
17
18
19
Next >