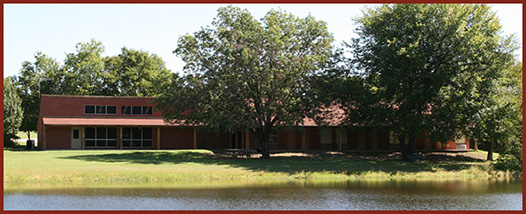 The Mary Alice Wilcox Adult Conference Center
The Conference Center provides the perfect setting for meetings, retreats, and conferences. The Center's meeting room accommodates up to 60 people with a scenic view of the property's many ponds. A 63" TV with a DVD/VCR player are available for use along with a portable screen and white board. A large serving kitchen adjacent to the meeting room is available for meal preparation. The conference center boasts 11 motel-type rooms, each equipped with two twin beds and private bath, 2 of which are wheelchair accessible. The 12th room is our Pastors Study equipped with queen-sized sleeper sofa and private bath.
Maximum overnight accommodation is 24 people.
"We've used Springhill for our annual staff retreat for about 10 years now. When we poll our employees about possibly changing locations, they all want to go back to Springhill. It is where we are able to have our offsite training and Employee of the Year celebration in a quiet and relaxing environment."
-City of Plano Health Department