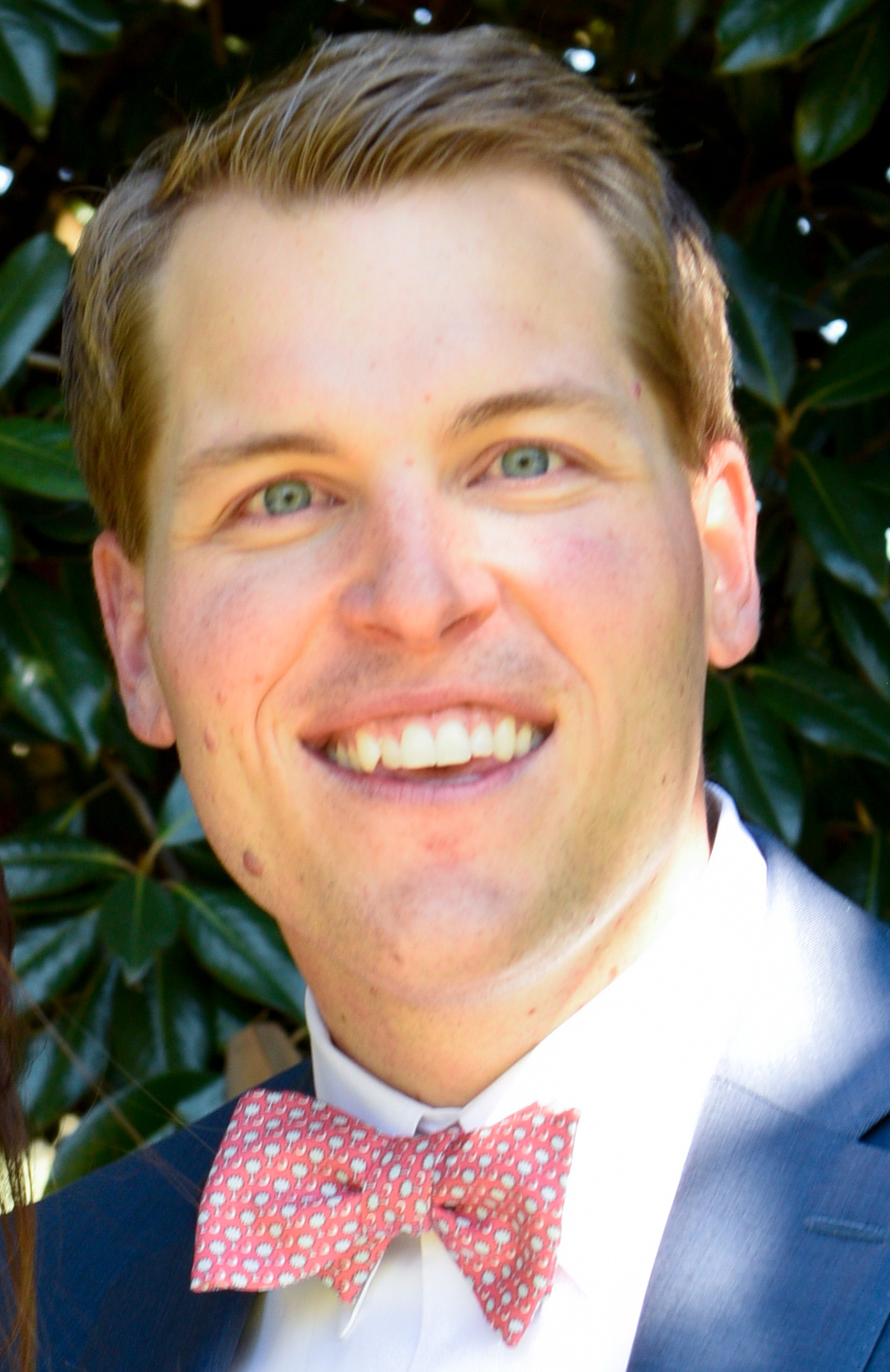 Rev. Matthew Ruffner was called and elected by the PHPC Congregation on April 19, 2015 as our Pastor.
Matthew was most recently Associate Pastor for Mission at Trinity Presbyterian Church in Atlanta, a position he had held since 2011. He holds degrees from Presbyterian College in Clinton SC (Bachelor of Arts: History and Religion, 2005) and Columbia Theological Seminary in Decatur GA (Masters of Divinity, 2010).
After completing his studies at Columbia Seminary, he worked as a consultant for the Cousins Family Foundation in Atlanta, assisting with the Cousins Fellowship Program for Seminaries. While at Columbia, he served as an Admissions Associate for the seminary as well as Director of the Sunday Night Youth Programs at Trinity Presbyterian Church in Atlanta. He also had two posts at First Presbyterian Church of Hartsville SC: Seminary Intern, and then Interim Pastoral Leader (Summer 2009). In the summer of 2010 he served as a Chaplain Intern for Emory University Hospital in Atlanta.
Matthew is married to Sarah Conley Ruffner, a Physician Assistant specializing in cardiology. They have an 18-month-old daughter, Olivia.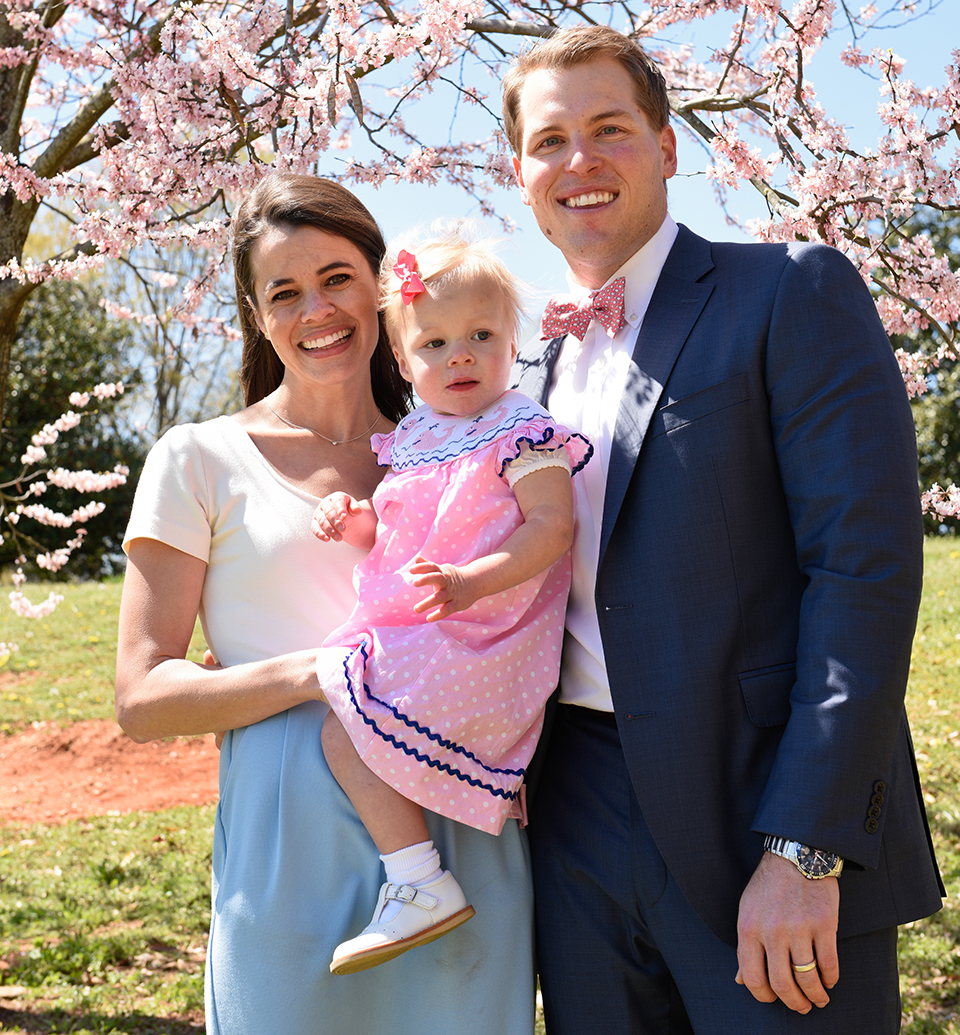 Sarah, Olivia and Matthew
Matthew's thoughts on ministry
"One of the great gifts and honors of being a pastor is to walk alongside people: on their best days (officiating at weddings; celebrating births and baptisms, confirmations and new jobs), on their hardest days (visiting at their bedsides, sharing tears in the midst of diagnoses, officiating at their loved ones' memorial services), and on every day in between. I have searched over the years for a better word than "honored," but it still seems to capture how it feels to be a part of people's lives and to be a pastor.
I believe God calls particular people to particular places at particular times, and I am excited that God has called our family to the Preston Hollow family. I am eager to join a welcoming, faithful, loving and inclusive congregation that is a true leader in the PCUSA. I look forward to furthering that tradition by joining a talented and faithful staff of people who take seriously their call to do justice, love kindness, and walk humbly with their God. I am thrilled about being part of a congregation that looks beyond its walls to serve those on the margins in Dallas and across the world. I look forward to preaching and leading worship each week as we are both nourished and challenged. I am honored to be called to Preston Hollow, and the Ruffners cannot wait to call it home!"
To the Congregation of Preston Hollow Presbyterian Church:
It is with great pleasure and a profound sense of gratitude that the Pastor Nominating Committee introduces Matthew Ruffner to the congregation of Preston Hollow Presbyterian Church. Our committee was given Matthew's name almost a year ago; the recommendation came from a pastor who knows our church well and was extremely complimentary of Matthew. From our early, off-site research, we were impressed with Matthew's preaching, so we wanted to get to know Matthew better. And get to know Matthew we did; to know Matthew is to love him. In addition to being a gifted preacher, Matthew is a caring pastor who will love our congregation. To a person, we believe fervently that God has called Matthew Ruffner to be the next Pastor of Preston Hollow. We are excited to present him to the congregation, and we look forward to being part of his ministry here.
Sandy Brown, Vice-Moderator
Judy Burnett
Emily Candee Hill
Linda Humphries
Kevin Jackson
Mark Melson, Moderator
John Vernon
What others say about Matthew:
"Matthew is one of the most promising young leaders in the Presbyterian Church today. He has boundless energy, indefatigable enthusiasm, a passion for people and justice, and one of the biggest hearts of anyone I know. Matthew simply radiates the love of Jesus Christ. He will be a tremendous gift to Preston Hollow Presbyterian Church, and I look forward to seeing the good ministry that you will do together in the years to come."
- Anna Carter Florence, Associate Professor of Preaching
at Columbia Theological Seminary
"I think a great deal of Matthew. He has a personal openness with which he meets the world, and lots of charisma. He shows up ready to work with enthusiasm and commitment. He is a good worship leader and a really fine preacher. Matthew would overwhelm your congregation with love, and your congregation will grow to love him and Sarah very quickly. He, Shannon Kershner and a few others are part of a new generation of exciting and interesting pastors who will be leaders in the denomination for years to come."
-- Richard Dubose, President,
Montreat Conference Center
"Matthew Ruffner is a talented pastor with a heart for God's church. I do believe Matthew is one of the great young pastors in the denomination. He is able to imagine what the church might be tomorrow while valuing what the church already is today. I look forward to how he might enhance the wonderful ministry already at work at Preston Hollow Presbyterian Church."
-- The Rev. Casey Thompson, Senior Pastor,
Wayne (PA) Presbyterian Church
"Matthew is wise beyond his years. He possesses the qualities of insight and resourcefulness innately. He has been tapped for leadership at every step of his development. He would do well in a big tent environment: he is such a good listener and is so good at building personal relationships."
-- The Rev. Lane Alderman, Senior Pastor,
Roswell (GA) Presbyterian Church
"When I "recruited" Matthew to consider joining the Trinity team, I knew it wouldn't be too long before another church called him away. Matthew is strong in the ministry fundamentals: a deep and growing personal faith, a passionate commitment to serve Christ's church and a dynamic vision of the church serving God's world are at the heart of his calling. Matthew preaches from the heart to the heart and he leads by inspiring others to share their gifts and mobilize their energies around a shared mission. It is going to be exciting to watch Preston Hollow thrive and grow under Matthew's joyful servant leadership."
-- The Rev. Pam Driesell, Senior Pastor,
Trinity Presbyterian Church, Atlanta
"Matthew is extraordinarily gifted and uncannily wise for his age. He is a person of great vision, a strategic thinker and a great critical thinker. He's funny, and fun to be around. He is also very validating of people – he sends his lay volunteers thank-you notes all the time. I have no doubt in my mind that he will be a fantastic head of staff at a big church and be one of the best."
-- Jamie Brownlee, Elder,
Trinity Presbyterian Church, Atlanta
"Matthew Ruffner is a natural leader whose warm and engaging style endears him to children, youth and adults of all ages. A dynamic preacher who relates the Bible to everyday life, Matthew has a personal maturity and a depth of faith well beyond his chronological years. As one who is familiar with PHPC, I can assure you that Matthew is a wonderful fit to be your next Senior Pastor! In fact, I am standing on my tip toes to see what this great congregation will become under his gifted leadership!"
-- The Rev. Tom Tewell, Executive Director,
Faith-Based Ministries, CF Foundation, Atlanta
"Matthew Ruffner is a wonderful friend and a great colleague. He has a passionate heart for service to the church, and a unique vision of the church's role in the wider community and the world. I have particularly valued his organizational skills and his collegial approach to worship planning in our work together. The entire Trinity family has benefited enormously from his many gifts for ministry."
-- Norman Mackenzie, Director of Music and Fine Arts,
Trinity Presbyterian Church, Atlanta
"As a native of South Carolina, Matthew embodies the best of Southern culture: he is friendly and hospitable, eager to build community over shared meals and good conversation, and always ready to make others feel at home. Whether he is sitting on the front porch or standing in the pulpit, Matthew is a gifted preacher and story-teller. He is committed to building a church that is just, compassionate, and deeply engaged with God's work of healing in our world."
-- The Rev. Lauren Scharstein, Associate Pastor,
The Presbyterian Church of Upper Montclair (NJ)
Matthew's passion for doing the work of Jesus Christ in the world is only surpassed by his thoughtfulness as a pastor. His preaching will nurture and challenge the people of Preston Hollow to grow in their faithfulness to God, while his leadership will inspire them to reflect the grace and love of Jesus Christ evermore brightly in Dallas and around the world.
-- The Rev. David Powers, Pastor,
Madison (GA) Presbyterian Church