Day of Fasting and Prayer 2015
Preston Hollow Presbyterian Church invites you to join with thousands of Christians across the US, Canada, Northern Ireland, Scotland, and Malawi for a day of fasting and prayer on September 20, 2015.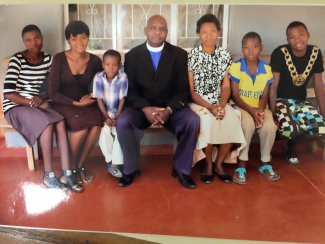 Rev. A. Mlindakaya Phiri brought greetings from his family in Mzuzu, Malawi, and from the Synod of Livingstonia of the Church of Central Africa Presbyterian (CCAP) on August 30 in worship. He has begun his studies at Austin Presbyterian Theological Seminary, sponsored in part by PHPC.
While Rev. Phiri's heart is full because of the opportunity he has to study, what he did not tell us in worship is that his heart is also heavy. He has left his wife, Alice, and five children behind as a severe food shortage is brewing in Malawi. Flooding in the south and severe drought in the north coupled with rising food and petrol costs has created a perfect storm of food insecurity. Since there is only one harvest per year to provide maize and cassava, staple crops, conservative estimates believe that by January and February 2016, 23% of Malawi's population will be experiencing severe malnutrition.
The Malawi Mission Network of the PCUSA, of which PHPC is a leader, has called for a Day of Fasting and Prayer to stand in solidarity with our brothers and sisters in Malawi. Churches in the United States, Canada, Northern Ireland, and Scotland will pray and fast with us on Sunday, September 20.
PHPC's Malawi Mission Team invites you to join them in prayer and fasting from noon, September 20 – noon, September 21 or another day of your choice. This is an excellent opportunity for us to stand in solidarity with our sisters and brothers in Malawi who experience hunger pangs as a matter of course.
For the story behind this day of fasting and prayer and materials for your day of fasting and prayer, click on the pictures below